On Sunday morning I went to visit Luke an amazing horse, who is owned  by a friend.
I started my visit by giving Luke a few treats of carrots and apples which understandably he loved.
I enjoyed listening to him munching, as well as breathing in the wonderful smell that horses have ( this is something that my husband, who is not horsey does not understand at all!)
Luke had just come back from a hack ( ride) with his owner, Michelle so after she washed him off , I helped by using a sweat scraper to remove the excess water.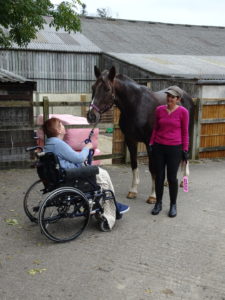 I spent the remainder of my visit generally patting, kissing and admiring this magnificant animal.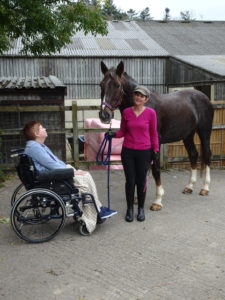 I would like to take this opportunity to thank my good friend Michelle Clayton for allowing me to have this experience and to my sister, Kim Watts for escorting me and taking the photos. You can read more of my horsey adventures, before I suffered a stroke, by purchasing my e book titled Equestrian dreams Click Here To Buy
As always questions/comments are welcome.
Karen
x