I have decided to write this post in the hope of inspiring other disabled people to have a try at riding.
As the title suggests this was my fourth attempt at disabled riding at the Calvert trust, Exmoor.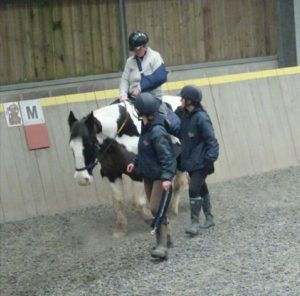 Once again I rode Teddy a 21 year old pie bald (black and white) gelding.
After being hoisted from my wheelchair and onto the saddle as usual it took a few strides for me to feel confident, when I did there was no stopping me.
I began with a few manoeuvres  through cones and poles managing to steer my horse by reining with my one hand.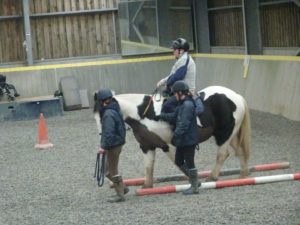 Kerri my instructor felt that I was ready to ride without someone leading my mount and I also felt that I could achieve this. I walked around the indoor school changing the rein ( changing direction) and did a few halts and starting again by using both my voice and squeezing my leg against Teddy's side to instruct him completely on my own, with Teddy's help of course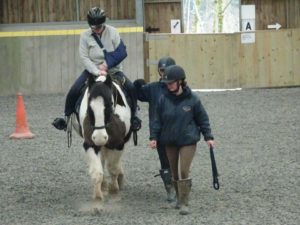 .
Next my instructor asked if I was feeling brave, to which I replied that I was without knowing what she had in mind for the pair of us. She said she would like me to attempt a small trot, as I was a regular rider before stroke I knew that trotting is a bouncy gait for the rider but felt that I should at least try.
I was extremely proud of myself (even if I do say so myself!) as I managed really well, when I was able bodied I would rise to the trot but now I mastered a sitting trot.
I left the stables on a high and couldn't wait to get home to tell all my friends on Facebook what I had achieved.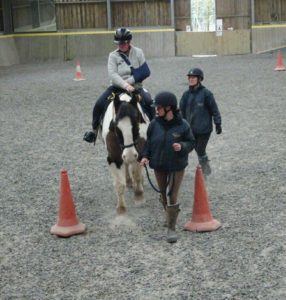 Kerri has suggested that on my next lesson in a few months time I should go on a hack (outside ride) rather than riding in the indoor school. So weather permitting that is what I intend to do, watch this space to read about how I get on.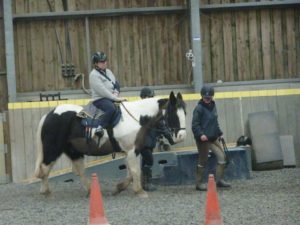 I would like to thank the stable staff at the Calvert trust, Exmoor for letting me have this amazing experience and my sister, Kim Watts for being my photographer.
As always questions/comments are welcome.
Karen
x