Most children, love animals and rabbits, along, with hamsters and guinea pigs, are firm favourites.
Rabbits are cute and cuddly, however, they don't always like to feel that all four feet are off the ground and therefore, sometimes, will scratch,.at that, I'm not suggesting that they are not a good choice of pet for a child, just that children should ALWAYS be supervised around any animal, not just pets. If they are handled correctly, by holding securely and having their legs supported, they will tolerate a small cuddle.
My two sisters and I, kept rabbits, when we were growing up and we looked after them extremely well, even if I do say so myself! However, I recall a time when we were very irresponsible, we often let our rabbits have a run around our secure garden and our parents, told us one numerous occasions, "NEVER,let them out together,"( they were housed in three separate hutches) but being children, we didn't listen and did let them out together, to see what would happen really and you can guess what did happen,yes, they mated and several weeks later, we had babies, when we were questioned by our mum, I am ashamed to admit that we denied everything!
The main problem, with allowing your child, to have any pet, not just a rabbit, is that it may be just a novelty and they soon get bored with it, leaving their parents to feed and clean out the cage, or worse, the poor thing is left forgotten and neglected, living in a dirty hutch at the bottom of the garden, getting fat.
As an adult, I have owned several different rabbits, the most memorable being Billy, our giant continental bunny, He was huge in personality as well as stature and was even known to sunbath on the patio with our German Shepherd dog.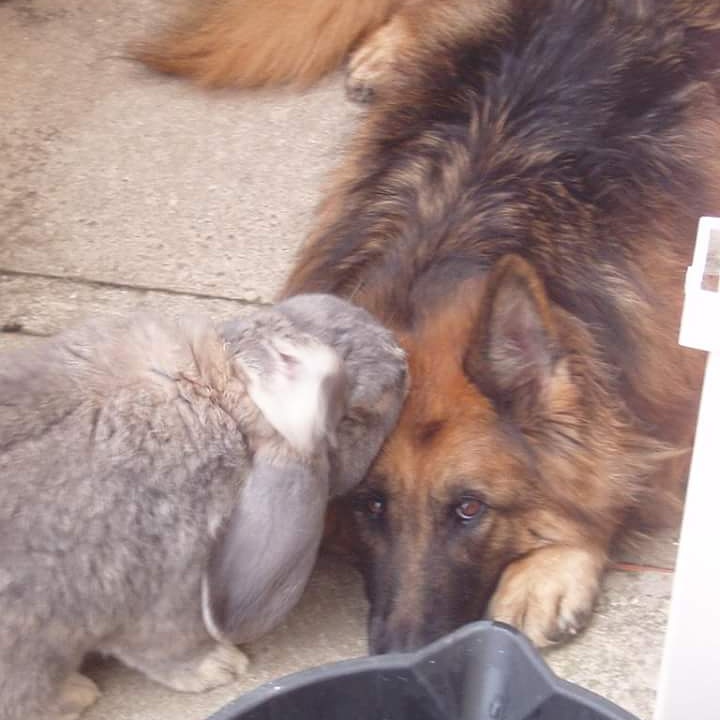 At the present time, we have two Cornish Rex rabbits, Fudge and Smudge, who live happily together.  They go out on the lawn, in a run, as often, as the weather allows, ensuring they get plenty  of exercise, we even give them'toys' to keep them fit. They will jump into an empty cardboard box together, my husband has also come up with an idea of stuffing hay into an empty toilet roll tube to make them work for  food, he has made a hay net from sacking too and hangs it just out of reach to encourage them to stretch.
Several years ago, my husband decided he would like to breed rabbits. I was working as a child minder, at the time and the children loved the babies, a few of them, even managed to persuade their parents into letting them have one. Another time I was looking at baby rabbits in a local pet shop, to see how much they were selling them for. I noticed a family were also looking at them. I whispered, to the mother, "I have baby rabbits for sale, which are half the price and have been handled by children." She asked if she could have my phone number, so I gave her one of my child minding business cards. She rang later that day and ended up buying two from us. Sorry to the owner of the pet store!
Rabbits teeth never stop growing, so it is important that they are given hard substances to gnaw on, we give ours apple wood, hay and bird seed, which they love. but make sure you don't overfeed your rabbits, a fat rabbit will not be able to clean it's self and will be  vulnerable to fly strike .
Another tip, from my husband again, is to keep an area in the hutch to use as a toilet. He has sectioned off an area with wood batons, see in photo,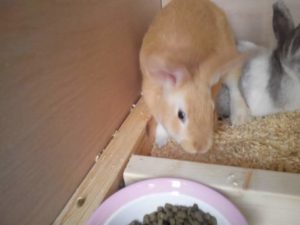 but you could even use a cat litter tray, for really easy cleaning. Encourage the rabbits to use this area by  moving their droppings into it, hopefully the scent will do the rest.
If reading this, has made you decide that a rabbit is the correct pet for you, or your child, please consider  obtaining one from a rescue centre, North Devon animal ambulance is my local re homing centre,but there are several across the country, including some pets at home stores, who do an adoption for pets scheme, they usually ask for a £10 donation, which is still cheaper than a lot of pet stores.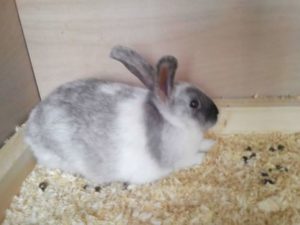 As always, questions/comments are welcome.
karen