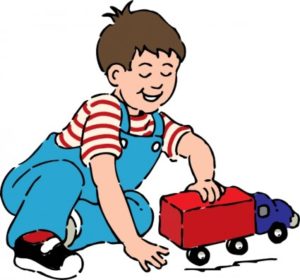 Thanks to Terry who suggested that I write a blog about Child Led Play.
It is too easy to hover over our children while they are playing. It is much better take a step back and et them use their imagination.
When I was child minding, I sometimes laid out the tea set on a child sized table in my play room and watched while the children played with it.
Another way of encouraging child led play is to ask them open ended questions such as "What are we going to have to eat and drink?" rather than just asking for a cup of tea and a slice of cake.
The most special occasion that I can recall of this was at Christmas time. There were three children, of varying ages in the play room. I was listening from just outside the door way. The oldest child dressed up as Santa, complete with glasses (without lens) had wrapped up random toys in sheets taken from the dolls cot she then placed them in a pillow case (santa's sack) While this was happening the other children lay on the sofa and pretended to be asleep. "Santa" tiptoed over and placed a present beside each child as he crept out of the room, I saw one of the children open an eye, she then jumped up and squealed with delight "Wake up, quickly, Santas been!" to the other child.
Then they both unwrapped their gift, hugged and sang Jingle bells.
It was a magical moment for me to witness, made even more special because they didn't know that I had been watching and listening, they retold the whole event when I went back in the room.
My grandaughter loves to play shops, her favourite is to be an ice cream seller. Instead of her Daddy asking for a vanilla ice cream, he asks what flavours she has, this not only makes her use her imagination, but also helps her communication skills.
Child led play is great for expanding a child's imaginative play and vocabulary skills, while generally helping brain development at the same time.
Have fun and enjoy this special time with your children while they are young and innocent.
As always comments/ questions are welcome