Regular readers, will know how I love to get children out and about whenever possible.One outing, that comes to mind, was when I took my youngest son. then aged 12, a child minded child, age 8 and went, with another child minder and her son, 12 on an afternoon walk to Heddon's mouth, via the Hunters Inn
The Hunters Inn, as the name suggests, is a hotel.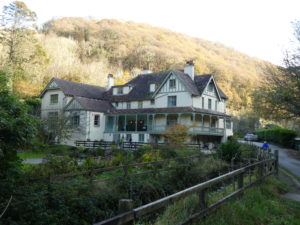 We drove there, ( note, that I had written permission from the child minding child's parents, to take her out in my car) leaving my car in the car park, we then walked pasted the hotel, where there were several peacocks wandering around the grounds.
. The path which is in a deep valley follows a river to the sea.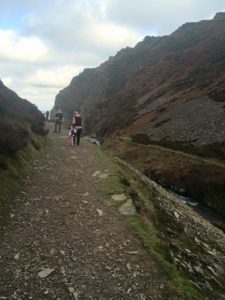 We walked together along the path, where I spotted and pointed out a heron looking for fish. At one point we had to cross the river over a wooden bridge, where the children had fun playing pooh sticks, while I chatted to my friend. As we walked further we also saw a mountain goat, high above us, on the hill. To get onto the pebble beach, we had to cross the river once again, the older boys decided to use some stepping stones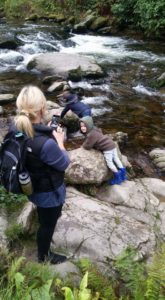 and my son managed to get his feet wet, On witnessing this, the rest of us took an alternative route.
Next we found a sheltered spot to sit on the beach, while the children tried their hands at skimming stones into the sea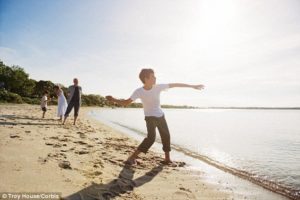 (always take great care of children near any water). I remembered my dad telling me, when I was a girl, that round, flat stones are the best for this, so I shared this information with them all.
Half an hour, or so, later, we headed back to the car park, taking pleasure from the scenery, as we walked.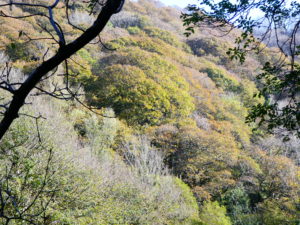 When we arrived at the car, we had an ice cream, before driving home.
For the cost of an ice cream each and the petrol it took for our journey, we had a good, educational, fun afternoon out and as it meant my son had a good few hours away from his x-box, I would say it was a good result!
I would like to thank my dad. Ken Smith and my friend Tina Day for allowing me to use their photographs in this post.
As always questions/comments are welcome.
Karen
x