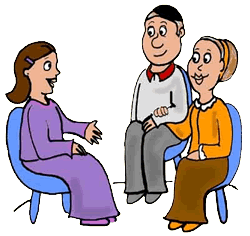 Understandably it can be quite daunting for a newly registered child minder to do their first interview, or meeting with a parent for the first time.
You learn with experience; this is how I handled it, and I did manage to convince most parents to pick me as their child minder.
Usually, a parent would contact me to check availability. If I had the desired place available, I would suggest that the parent came to my house with their child to meet me over a coffee. I suspect that a lot of parents are equally as nervous about the situation, so the word "interview" can sound a little formal. I preferred to see a new parent during my working day if possible; while child minding children were present, as that gave a good view of how happy the children were with me. Although on one occasion; the 6 month old child I was looking after cried for the whole time a new parent was present! I thought this would put her off, but she actually booked me there and then saying that it had proved to her that I was a patient person, as she would have thrown him out of the window!
When the door bell went; I would be accompanied by several little people, all eager to see our visitors. When we got back to my playroom (I was very fortunate to have a separate room for my child minding, but many child minders use their lounge/living room; so don't worry if you don't have a designated area such as a playroom) I would invite the parents; usually Mum and Dad to take a seat (sometimes Grand Parents came along as well.) As it was my playroom; there were always toys out and most children were only too happy to make a beeline for new, interesting toys. This helped keep the child amused whilst I chatted with their Mum and Dad. I would then offer the parents a tea or coffee and suggest that the they have a browse through my portfolio while I was waiting for the kettle to boil. The portfolio contained all of my qualification certificates, policies and procedures etc. When I returned refreshments to hand; I would sit down and introduce the existing children and maybe give a little insight as to how often they came and how long they have been attending.
I would then ask if they had been to see a child minder before. The reason I asked this is because if they had, it would mean they should have a vague idea of how child minders work. Sometimes a parent was embarrassed to admit they have already looked elsewhere; but I would reassure them that I think it is important to see different settings, as although we all have to follow strict rules and regulations set by Ofsted we are all individuals, and it is important to find someone you feel comfortable with. The vast majority hadn't been anywhere else (or they never admitted to it!) so I would start by pointing out my registration certificate that was proudly framed on my wall, along with what I called my "big qualification certificates" such as my NVQ. I would also show things like my insurance  document, which was in the portfolio, but as some parents, only glanced at it quickly whilst I was making the drinks, they may have missed it.
I also explained about first aid and that my qualification had to be renewed every 3 years. I would tell about other members of my household and introduce them to my husband (if he was at home) I would also introduce them to my pets; I had a cat, 2 rabbits that lived outside and my German Shepherd dog. I was concerned sometimes, that having such a large dog may put some parents off. My dog was wonderful, and I would trust her with my life; although personally, I don't think any dog should be left, unsupervised with a child ever. To my knowledge; no-one was put off by my dog, or any of my other pets.
One the introductions were over I would then explain what we usually did on the days the new child would hopefully be attending. For example; child minders drop-in on a Monday, Toddler group on a Tuesday and so on. We would then look at paperwork together. Things such as contracts, contact information sheets and discuss any allergies that their child may of had.I explained about my accident/incident book and why I had to list any existing injuries a child may have. It was important that the parents told me if their child had a bump or bruise that had happened whilst not in my care; this was  in order to protect myself from allegations.
Most parents like to go away and think before they commit to a place; but I have had a few who decide straight away that I was the child minder that they wanted. I would then ask for a deposit to reserve the space if the child wasn't starting for a while.
As I have already said; you learn with experience as you become established as a child minder. It takes time, but remember to relax and take a deep breath. HAPPY CHILD MINDING!
As always questions/comments are welcome.