Sarah Knight has suggested that I write about how to survive Christmas with children, thanks, Sarah.
The first thing that comes to mind is how wonderful Christmas is when spent with children. My best Christmases. were when my children were still believers in Santa, there is something magical about that!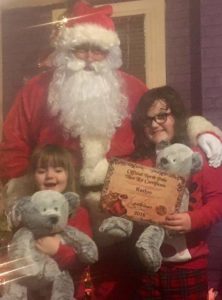 I recall, one year, my eldest son wrote to santa asking for teenage mutant turtles ( all the rage that year) I went to every toy shop in the area, but all were sold out. Afraid that he was going to be disappointed on the big day, I gently explained to him, that as many children were asking for these, Father Christmas may find it difficult to get them, as toy shops were selling out.
"It's O.K, mum" he told me. " My school friends nan lives in America and she says there are loads there, santa flies all around the world, so he can get me some on his way!"
Eventually I managed to get two sets, one for each of my sons, by going on a shopping trip to London. ( It did involve having a scuffle with another mum)
Whilst childminding I had a selection of Christmas activities up my sleeve, from making and icing biscuits and marzipan fruits to decorating shoe boxes ( more on this, in my  arts and crafts blog)
Christmas eve in our house was manic. not only were my boys excited about the next day, but Christmas eve was also their dads birthday, so we had several visitors. One year, my son gave his dad some chocolate, as he unwrapped the present, my son told him, " We could share that."
I have heard  that a local theme park is letting local families in at a reduced price on Christmas eve, as a way of saying thank you for supporting them throughout the quieter times. What a great way of letting your children burn off some energy and prevent them getting bored while they are waiting for santa to come.
I used to persuade my children to go to bed early on Christmas eve as the time seems to go faster when you are asleep!
A bit late for this year now, but my biggest tip is to start planning for Christmas early. I used to buy presents, all year round, especially if I came across something suitable for someone in a sale. It certainly helps the budget if you can spread the cost throughout the year.And if you get sorted ahead of time, it means you can enjoy the build up to Christmas with your children without the stress.
One of my favourite things was watching my children and others, at the nativity plays. Unfortunately, my grand children live too far away for me to see  theirs, but my son sends me a video.
One more thing, if you do shop all year round, it is a good idea to write down who you have bought for and put it in your purse, so you don't forget and double up!
In brief then, plan ahead when possible and keep little ones amused, by letting them help with making cards and decorations and putting up the tree, of course.
I have noticed that shopping centres are putting santa in his grotto earlier each year, I would suggest that parents don't take their children to visit him too early, as this will make them think that he is coming in the next few days, which may cause them to get over excited, before they should.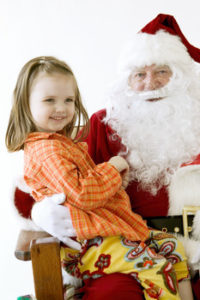 Above all, enjoy Christmas with your children, as it never quite the same when they grow up.
MERRY CHRISTMAS AND A HAPPY NEW YEAR TO ALL!
As always, questions/ comments are welcome.
Karen x