Living in north Devon; I am very fortunate to have some wonderful coastal and countryside walks on my doorstep.
Many years ago now; when my boys, were of school age I decided that we would go on a cycle ride together to a lovely place called Fremington Quay. The weather was pleasant; without being too warm and it was the school holidays so we set off for the Tarka Trail  which is approximately 30miles in total; of course we had no intention of going no more than a few miles! The Tarka Trail is traffic free and follows the path of a disused railway line. It is named after the book about an Otter called Tarka. We accessed the cycle path from home by using a few quiet roads; so it was a safe route. Once on the Tarka trail we were met by some fantastic views.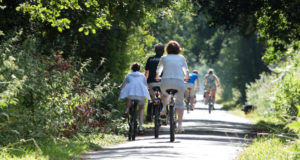 It was all relatively flat; so we could enjoy the scenery as we cycled. After roughly three miles we arrived at Fremington Quay Cafe; where we stopped for some refreshments. The cafe has bike racks provided so we locked up our bikes and sat outside the cafe looking at the fantastic views across the estuary. I was good in only having a coffee; the homemade cakes were looking wonderful though!I have also heard from several friends; that the breakfasts they serve here are to die for! The cafe building is an old railway station and has been wonderfully restored and also now houses an historical centre; there are a number of tables available inside too but most customers tend to be cyclists or dog walkers and choose to sit outside (weather permitting.) Whilst I enjoyed my coffee the boys had soft drinks and an ice cream; they then asked if they could go across the path, to a wooded area on their bikes without me. As I could still see them from my picnic bench I agreed. They disappeared from sight very briefly when they cycled up a bank, but I could hear them laughing.
After a short while they headed back towards me and i noticed that my youngest was walking along side his bike rather than riding it. As he became closer I could see that the brake cable was tangled around the handle bars! My middle son explained that when they were ready to head back to the cafe he had suggested to his younger brother that he push his bike down the hill; rather than risk falling off if he rode it down, to which Adam (my youngest son) literally physically pushed it down the hill; causing it to fall at an awkward angle and get the cables twisted! My first thought was how was I going to be able to get us all home. Luckily, there were some older boys doing stunts on their BMX bikes nearby. They were showing off a bit really and I realised that some of the elderly customers were a little annoyed by this. I approached the boys and asked if any of them would be willing to help a mother in distress who knew nothing about bikes. Two of them were really helpful; fixed the bike in no time and we were able to ride home with a tale to tell.
---
Sadly, I am now disabled, after suffering a major stroke; I still regularly visit the cafe at Fremington Quay with my sister; we take an alternative route along the road. I sit in my electric wheelchair and Kim walks along  beside me. The cafe is very disabled friendly; so this is a time we can both enjoy together.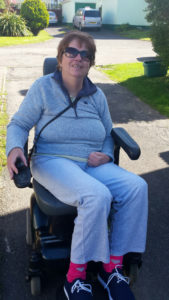 As always questions/comments are welcome.