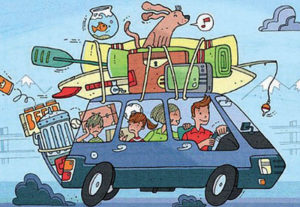 Nowadays, keeping children entertained on long car journeys is relatively easy thanks to things like laptops, electronic games and tablets such as iPads. They can now watch a movie or play a game whilst they travel.
When my own children were young, there were no such luxuries. I once made a booklet for each of them with a list of things for them to look for on the journey such as a man up a ladder, lady pushing a pram, a red traffic light, roundabout, scarecrow in field etc.
They then crossed each item off the list once seen. My youngest son was too young to read at the time, so I drew pictures for him (I am no artist!)
When I was a child, my two sisters and I would travel with our parents, between North Devon and Merseyside, a few times a year. We used to look out for car registration plates going through the Alphabet and also made a chart of car colours to see which were most popular. We would also look out for horses (as we were all horse mad) and at Christmas time we would look out for Christmas trees in windows.
Drawing books and crayons are a good activity for children. Crayons are better than felt tip pens, as they won't stain clothes if dropped.
Give each child a small ruck sack containing a drink (avoid fizzy drinks, i find that fruit juice or water is better) a snack, drawing book and pencils, a small toy and a picture book or comic for the journey.
Singing (if the parent can stand it!) is another past time, as are games like "I Spy" (you can spy colours, rather than sounds, for younger children.)
When I was childminding, I didn't take the children on long journeys as such, but we did go on day trips and as my son went to Primary School a few miles away, we travelled by car to the school. I encouraged the children to look out for things like police cars, fire engines, ambulances and as we drove into a farming community; tractors.
The main thing is keep your cool, ensure everyone wears a seat belt and that young children are secured in an appropriate car seat; enjoy your journey. These activities can be adapted for journeys made by train, bus or plane.
As always comments/questions are welcome.