This craft could be undertaken by both adults and older children under some supervision I made mine some years ago at a family workshop group.
All that is required is a picture of a Christmas theme (I used a candle) there are many free downloadable images available on google imagines (check for copyright).
A plastic Pyrex plate which can be purchased for a few pounds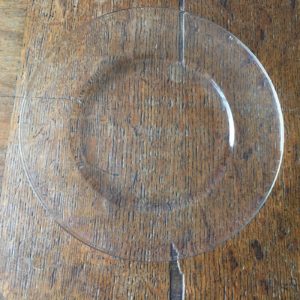 and some glass paints which are readily available on line or from arts and crafts suppliers.
Wash and dry the plate before painting to remove any dirt or grease then put your imagine behind and secure with blue tack or sticky tape, you should be able to see the picture clearly enough to paint between the lines ( as glass paint is quite runny this should be relativity simple to do).
Leave to dry for at least an hour, longer if possible then remove backing imagine. You now have a great Christmas decoration. I recommend that this plate is used as a decoration and not for food as washing it may remove the paint, I put mine on the window sill every year as the light reflects the colours.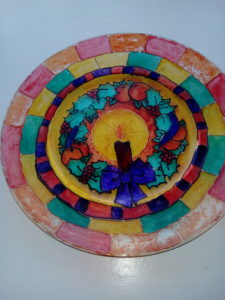 Merry Christmas!
As always questions/comments are welcome.
Karen
x