This weeks post is going away from my usual topic of parenting/child minding tips and advice.
Recently I have been fortunate in that I have managed to lose a stone in weight quite quickly and when a friend asked how I had achieved this I decided to blog about it.
I have never had a weight problem before, in fact, when I was in my 20's  I was at the park with my children on a warm day wearing shorts and a cropped top, I came across a work colleague who stopped to chat  then he said, "The word Gandhi comes to mind, Karen" I knew that I was on the slim side, but was I that skinny! This is a picture of before I gained weight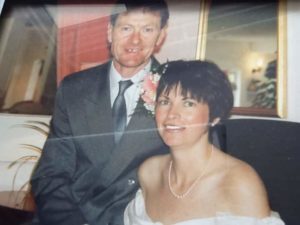 I suffered a major stroke 10 years ago and add to the fact that I was getting older the pounds and then the stones crept up on me.
I will admit to comfort eating too. My husband who also became my carer would reward me with a chocolate bar or cream cake when he thought that I had tried hard at my physio exercises, this became a joke that I shared with friends, if he gave me grapes with my morning coffee he wasn't overly impressed but if I was given a slice of cake or biscuits he was pleased.
In February of this year I had a fall which happens occasionally  and usually my 'super Geordie' husband  would pick me up and put me back on my feet  ( I am unable to help myself as I have very limited use of my left hand side) on this occasion when he attempted to lift me he kept repeating " How much weight have you put on?"
It was then that we both realised that something had to be done, as if he was unable to lift me we were both in trouble. I was brave and got onto the scales the next day, this was a challenge  I wear a splint for support on my leg for standing and walking so once Alec had put this on I held onto the window sill for support stepped onto the scales and then let go for a few seconds while he checked my weight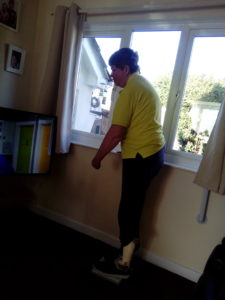 , I was 13 stone I have never been more than 10  even though my three pregnancies.
I didn't follow a diet as such I gave up the comfort food and snacked on fruit  I ate brown bread rather than white and replaced semi skimmed milk for skimmed, which didn't really taste that different. I also had salads and if the rest of the family were having chips I had pasta or rice  I was encouraged  by my sister when we went out for our weekly coffee together to have a small white coffee rather than my usual latte.
As exercise if difficult I attempted to walk a little more. I wear a splint on my left leg and use a tristick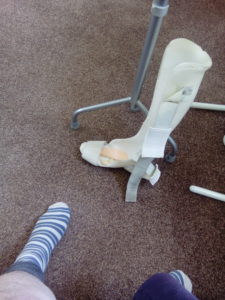 so when I walked to the toilet at the end of our hallway I would walk back to the living room  and then turn around and walk back towards the toilet again doubling my usual walk I called this my roundabouts my leg muscles ached for a few days but they soon adjusted to it.
When I weighed myself a week later to my amazement I had already lost half a stone I was so surprised that I stood on the scales again an hour later to double check that it was true, which it was. that gave me a real boost and more willpower On average I tended to lose 2llbs a fortnight. I still allowed myself a weekly treat of a piece of battered cod from the fish and chip shop, usually I would have had a portion of chips but figured fish was less fattening even with the batter.
I was beginning to receive lots of positive comments from friends and family which gave me more incentive to carry on.
On 4 May when I stepped onto the scales I had lost the magic stone. If I can manage to lose weight I believe that anyone can all you need is willpower and encouragement from family and friends.
My challenge is now going to be  to not let it creep back on.
As always comments/questions are welcome
Karen
x