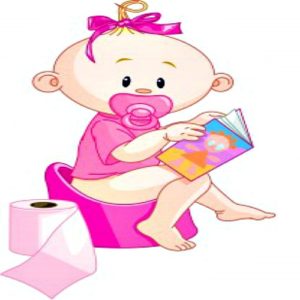 Experts say that most children don't get bladder control until around 18 months, so there is no point in trying to potty train before that age.
I must admit however, to placing my first born son Leigh, on his potty just after his first birthday. He seemed to be quite happy sitting there, whilst watching a children's television programme (I couldn't see any harm in this and thought that it was good that he got used to it) Whether it was just a coincidence or not; I don't know, but he produced a No.2, so I did the same thing the following day and the same thing happened. This continued for about a week, then one day when I changed his nappy, he was dry so I asked him if he like to sit on the potty; this time he managed a wee so I made a big fuss of him by telling him what a clever boy he was and that we would tell his Daddy, when he came home from work and that he would be really pleased too.
My son still wet his nappies, but every now and again I would discover a dry one and put Leigh on his potty, sometimes he would use it and sometimes not. As time went on, I had more dry than wet nappies, and more success with the potty. At this stage I was still putting on a nappy when he went for a nap, over night and when we went out; as I knew he was still quite young.
When Leigh got to around 18 months or so, he seemed to understand more about the potty and would tell me when his nappy was wet. I decided now was the right time to really go for it. I explained to Leigh that we were going to go shopping to buy him some big boys pants that he could wear instead of his nappy. He chose some with Thomas The Tank engine on the front. When we got home I put the pants on him and asked him to tell me if he thought he needed a wee. He was brilliant and almost always stayed dry and used the potty. Of course, he did have occasional accidents, usually when he was busy playing with toys. After a few weeks I took Leigh out for a walk still wearing pants. I took a clean set of lower clothes with me (even socks) just in case of an accident and when we ventured out further I would also take the potty, in a carrier bag and hang it off the buggy (young children can find sitting on an adult toilet frightening)
I was extremely lucky with all 3 of my boys, they all took to potty training easily and all became dry at night quite soon after mastering it during the day. I just placed a plastic sheet under the bed sheet to protect the mattress.
To summarize, my tips are:
Don't start too young
Praise your child big time for using potty
Don't become too upset if accidents happen change clothes and hope for better next time
Always carry spare clothes (and potty if possible)
Don't use pull-ups or confuse the child by sometimes putting on nappy
Purchase a seat to fit on adult toilet when time is right to progress.
As always, any comments or questions are most welcome.