Regular readers will be aware that before I suffered a stroke 10 years ago  I rode thoroughbred horses belonging to friends every weekend.
Since stroke I have tried riding for the disabled at the Calvert trust, Exmoor.
My second go at this varied from the first in that this time I wore my left stroke affected arm in a sling because the first time I felt that my arm was in the way and was actually pulling me into a lop-sided position.
I was hoisted into the saddle of my piebald horse, the amazing Teddy. I felt more relaxed this time as I knew what to except.
We started as previously walking slowly around the indoor school to enable me to get the feel of my mount.
Kerri my instructor , said that this time she would like me to attempt to steer Teddy rather than the lady who was leading making him go in the desired direction. This was more of a challenge than it sounds as previously when I had the use of two hands I would shorten the left rein to go left and the right to move to the right, now though  I was riding one handed so had to master the art of reining like a cowboy. My poor recovering stroke brain struggled with this at first but with some encouragement from Kerri
I soon got the idea and even managed to weave in and out of some cones,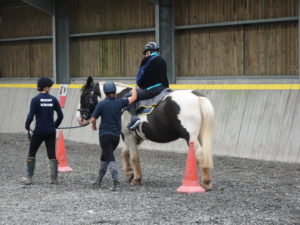 I also changed the rein  across the arena ( to non-horsey people this means to change direction). Next we mastered a 20 metre circle, of course, when I was able bodied I would do this at a canter rather than the slow walk we were doing now. One thing that  Kerri, my husband and sister, who were watching said had improved  since my last ride was my posture, I was sitting better and was not depending on the monkey strap that was attached to the saddle for me to hold on to.
At times I was leaning to one side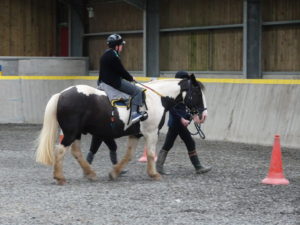 and where as at my first lesson  Kerri would literally  push me more central, this time  I was able to shuffle  myself into a better position.
After being hoisted  back into my wheelchair, my sister pushed me back to the stable block. Unfortunately one of the wheels got caught in a drainage gully and I was catapulted out of the chair onto the concrete floor which alarmed everyone especially me, immediately my 'super Gordie' of a husband  seeped me up and put me back into my chair . I was unhurt, just a little shaken , we all laughed afterwards by saying that I managed to sit on a large horse for an hour and then fell out of my wheelchair!
I would like to thank the staff at the Calvert trust, Exmoor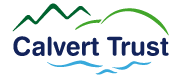 for allowing me to have the experience of riding a horse again, I would recommend it to everyone.
As always comments/questions are welcome.
Karen
x