As the title of this blog suggests this is my third attempt at riding for the disabled at The Calvert trust, Exmoor.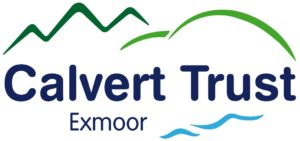 This time I had a bit of a shaky start when I was hoisted into the saddle, usually Teddy my horse  stands like a statue, but for some reason today he was shifting about and tossing his head up and down, had I been able-bodied as before stroke I would have relished this behaviour, today it made me a little uneasy. Kerri my instructor and a new lady that I hadn't met before reasured me that everything was fine.
Then I realised that  my stirrups were too short for my long legs ( this is something that I hadn't even thought about on previous lessons), once the stirrups were corrected  I not only regained my confidence , but sat in the best position I have managed so far since starting disabled riding. On other occasions Kerri has had to stop and remind me, or even help me to get my posture straight, today however she remarked that it was half an hour into my ride and she hadn't done this at all. This gave me even more confidence, at my last lesson I had begun to learn how to steer my horse now that I was having to ride one handed. I had been practising this at home while sitting in my chair which had attracted some scarastic remarks from my husband.
During this lesson the new instructor upped the anti by asking me to steer Teddy between 2 traffic cones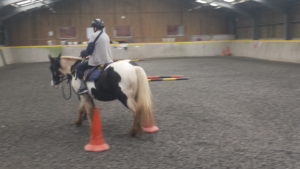 and then through some jumping poles, which I managed extremely well, if I do say so myself!
I also changed the rein ( changed direction) across the indoor school and asked my horse to halt and walk on again using both my voice and by squeezing with my heels.
During my other 2 lessons the staff had attached a monkey strap to the front of the saddle  for me to hold onto giving extra support, but as I didn't use it last time, this time it wasn't even there, proving the confidence that everyone had in my ability.
It wasn't until I was hoisted back into my wheelchair that I realised that my stroke leg hadn't hurt at all this time! previously after about 20 minutes it had started to ache and continued to ache for about an hour afterwards ( not too badly to stop me want to go, but enough that I was aware of it).
I would once again like to thank the wonderful stable staff at The Calvert trust, Exmoor  for all their patience, help and support.
An hours disabled riding at the calvert trust, Exmoor costs £30.
I have wrritten about my horsey adventures before stroke in an e book titled Equestrian dreams which is available to download from Amazon.
As always questions/comments are welcome.
Karen
x
X