Before I suffered a massive stroke 10 years ago I used to ride every weekend. I was extremely fortunate in that I had a friend called Sue Barker, who owned 2 thoroughbred ex racehorses, she had obtained them when they failed to make the grade in the world of horse racing. I rode an amazing gelding, who went by the name "Scruffy" ( although he wasn't in the slightest) his racing name was Wind Span.
Since my stroke I have been lucky enough to visit a friend's horse, Luke from my wheelchair.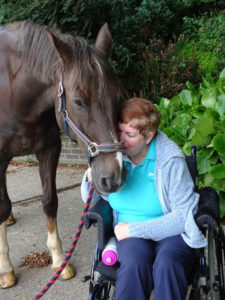 ---
My youngest son bought me a disabled riding experience at the Calvert Trust, Exmoor as a birthday present.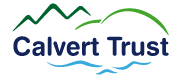 On arriving at the stables I was asked to sign a disclaimer before riding, I was then fitted with a riding helmet and a nylon sling for the hoist was placed underneath me, my horse, Teddy, was a 20 year old piebald ( black and white to non horsey folk) cob, he was led into the indoor arena closely followed by myself in my chair, which was pushed up a ramp, the sling which I was now sitting on was attached the hoist and while Teddy was moved into position I was lifted into the air with some help from 3 remarkable assistants I was soon in the saddle.
It felt a bit strange at first and my stroke leg did ache quite a lot but as I walked my horse around the school a few times to get the feeling of riding again I began to enjoy it next I was allowed to go outside as the weather was warm, we ambled around a track, while my sister took photos, then it was back inside to be hoisted off again.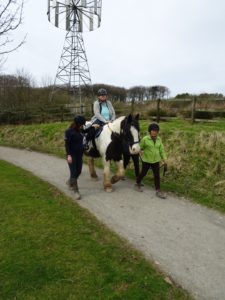 It was definitely different to the sort of riding I did before stroke when I would gallop, hell for leather on a fast mount, but this gave me a chance to once again get a taste of a hobby I once loved. I would recommend it to everyone.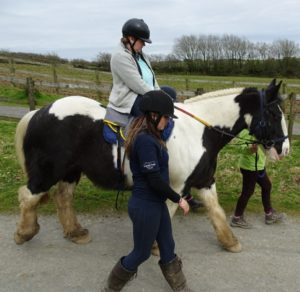 An hour's disabled riding at the Calvert Trust, Exmoor cost £30, all opinions are my own
As always questions/ comments are welcome
Karen
X