Road safety should be a concern for parents.
Your child is never too young to start learning how to cross the road safely. Always set a good example, even when they are in a buggy ; they will observe how you cross the street.
When I was childminding we always used the pelican crossing when crossing the busy roads near to my house. I recall once while we were waiting for the green man to appear, another pedestrian crossed the road before us. One of the children shouted out "Look at that silly lady Karen, she hasn't waited for the green man. That's stupid, isn't it?" At the time I was slightly embarrassed by her out burst, but she was right, wasn't she?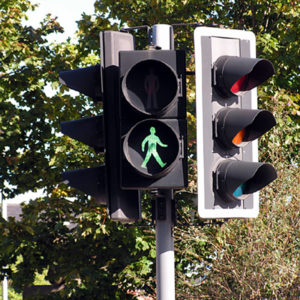 ---
When walking with a child beside you put, them on the inside away from the road. I am a fan of using reins on a walking child, rather than the wrist straps which they can undo with their free hand.
When childminding I used to insist that the children hold my hand, or hold onto the buggy if I Was pushing one. When we went along footpaths or quiet roads, and the children were being good I would let them run a small distance ahead of me. I would give an instruction such as "You can run as far as that red bench, but then stop and wait for me" If they did this correctly, then I would give them another pointer to run to. I found this worked really well and once was asked by a passer by "How come your children are so well behaved?"
---
Teach children the "green cross code" for crossing safely when there are no pelican or zebra crossings to help them. Explain to children the dangers of crossing the road between parked cars and never to run across the road. Hopefully by following this advice, your children will be safe when walking with you along the road and will gain a life long respect of the dangers of roads.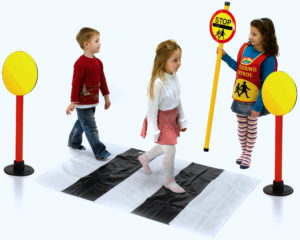 As always questions/comments are welcome.