As a child minder you may well find yourself with a variety of children of different ages to look after. Unlike many nursery settings, who usually have the under 1's in a separate baby room; a child minder will look after all ages together.
I tried my best to include all the children in all activities whenever possible, for example; when I sang rhymes such as "This Little Piggy" or "Round & Round The Garden" to a baby, I would encourage the older children to sing too. When singing action songs like "Row,Row, Row Your Boat" I would sit a small baby on my lap, a child old enough to sit would sit opposite myself, or with an older child under supervision.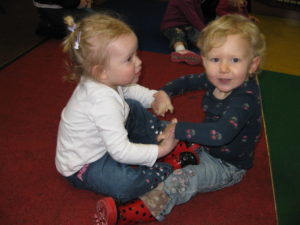 I would also include a baby from around 6 months to participate in activities such as play dough by strapping into a highchair up to the table. Be aware that a child of this age will want to put everything into their mouth; so be very vigilant.
---
In my experience a baby will learn so much from an older child that an adult can't somehow achieve, equally; older children gain so much from the little ones, such as watching them develop and reach milestones.
I used to have learning journey folders for all the children in my care. For the under 3's I followed the "birth to three" matters framework, and colour code the different stages, for example if I witnessed a baby hold her head up I would colour that purple indicating a strong child, and pink for a skilful communicator and so on. I also included photos, which parents appreciate and samples of their child's art work.
As always questions/ comments are welcome