I have always enjoyed watching the birds in the garden. As a child my grandfather gave me a book about birds so that I could read and learn about those I saw.
When I moved into my own home after getting married, my dade me a wooden bird table with a roof we only put out stale bread really, but managed to attract a few passing birds.
I really became interested in feeding garden birds after I suffered a stroke which has left me disabled, I spend a lot of time sitting in an arm chair beside a window, which overlooks the back garden. Unfortunately the garden is too low for me to see the ground while sitting, so my clever husband made a bird table at the right height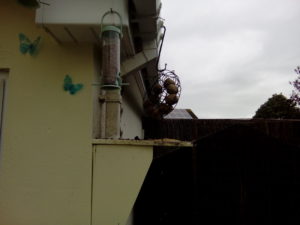 This has been wonderful for me to see wood pigeons, starlings, sparrows, black birds and a robin who frequently visits to feed on the died fruit and seeds that we supply.
He has also hung feeders containing peanuts and sun flower hearts from the garage roof that I can look at.
The biggest success, however is a gift I received from an elderly relative of a fat ball holder, the starlings can't get enough of this. I heard on Spring-watch that there are a shortage of home bred starlings, I think that I have them all on my feeder as I recently counted 15 young fledglings feeding at once.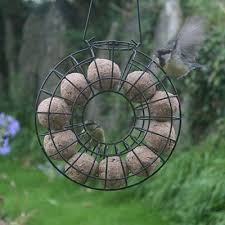 When I was a child minder I helped the children to make bird cakes from seeds , nuts and suet mixed together with melted lard and packed into yogurt cartons, left to set and then we hung them from a tree near the playroom window. The children enjoyed monitoring which types of birds liked to feed from them, it was mostly blue tits.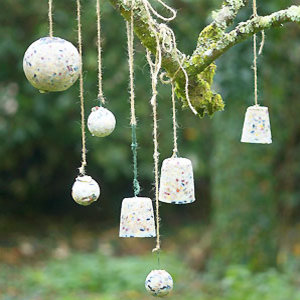 We also have a plastic bird table on the lawn which has water available for the birds to drink or bath in, we let the water go green as this encourages insects giving the birds natural food as well.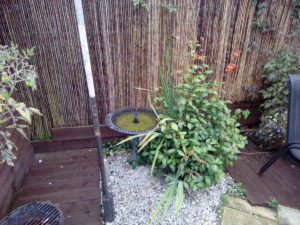 My husband has fixed a nesting box for the birds where I can see it, we have witnessed the odd blue tit going inside to investigate but up to now nothing has nested in it which is a shame as he has rigged a camera inside so that I can see anything that develops. I will keep hoping!
If you would like to attract birds to feed in your garden place the food somewhere safe away from cats, also refrain from throwing food onto the floor as this may attract rats rather than birds.
HAPPY BIRD WATCHING!
As always questions/comments are welcome
Karen
x