I have been a horse lover for as long as I can remember always hoping to get my own( read more about this in my e book Equestrian dreams available to down load from Amazon) so when a friend asked if I would like to assist with bathing her horse I jumped at the chance.
I started by wetting Luke a 16.4 hand bay gelding with the hose pipe, his owner Michelle  did the high parts that I was unable to reach from my wheel chair, next I rubbed the shampoo into the lower parts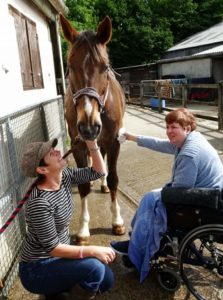 Luke is an amazing horse and wasn't phased at all by the 'silly woman' who was attempting to wash him from a sitting position! I then rinsed off the shampoo using the hose again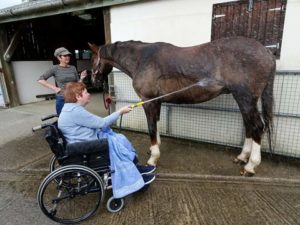 , then a sweat scraper enabled me to remove the excess water,
as it was a warm day he was fine to be left to dry off completely in the sunshine.
Finally as a thank you I fed Luke some carrots and planted a kiss on his nose.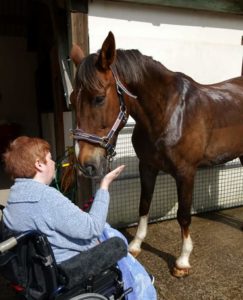 I would like to say a big thank you to Luke's owner, Michelle Clayton for letting me experience a fantastic morning at the stables and to my sister, Kim Watts who not only accompanied me but also took the photos. I have written an earlier post on my experience of riding for the disabled.
As always comments/questions are welcome
Karen
x