Continuing my theme on my experience of pets for children this time is for budgies.
When I was a child we had a fantastic blue budgie we named Kelly, although I think it was a male budgie as if my memory is correct he had a blue area above his beak, whereas females are coloured a pale brown colour.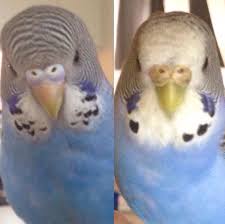 . I have always been told that males are the best talkers although I know my husband would chose to differ as he claims no one can talk like a female!
Kelly was really tame and when he was allowed to fly around the living room would often come and perch on a shoulder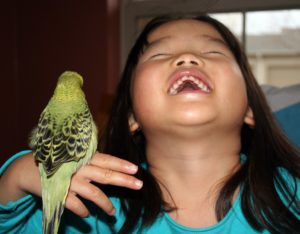 my parents would sometimes offer him a little of their tea on a teaspoon to drink.
Sadly Kelly managed to escape from his cage when my dad was cleaning it in the garage he flew out of the door and was never seen again.
As an adult my now ex- husband insisted on getting a yellow budgie so he could call it Custard, I wasn't as keen as we had two small sons and a kitten to take care of. Anyway he had his own way purchased his bird and hung the cage from a bracket above the sofa in the living room  I think that when he put his pet into the cage was the last time he looked at it as as he never fed or cleaned it out that was left to me. Custard's feathers would land along with the husks of seed all over the sofa.
I am now going to be honest and admit to what happened next. We had a few cross words about this and later that evening I went out for a few drinks with some friends from work, later I invited them back to mine for a coffee my ex was already in bed sulking, when one colleague commented on the budgie and said how much he had always wanted one having dutch courage from a little too many drinks I handed him the cage containing the bird then I found a screw driver and removed the bracket from the wall ( I did know this person well and was confident that Custard would be well looked after).
It actually took a week before my ex realised that his 'beloved' pet had gone and that was only when I asked him if he thought something was missing from the room, he replied "I know something is missing as the room looks a little bare, but I can't think what it is!" Later when I told him about it  he didn't seem at all bothered and it was never spoken of again six months later we bought a pet rabbit for the children who lived in a hutch in the garden.I have also written about rabbits as a children's pet.
My grand father always had a budgie and they were always called Joey. I think there were half a dozen different Joey's over the years. He liked to train them to talk and do little tricks, he taught one to push a tiny plastic dolls pram along the table with it's beak.
Budgie's can make a great pet for children, but please ensure they are given attention and always supervise children around all animals. For easy cleaning most cages come with a removable tray at the bottom. Supply clean fresh water at all times and keep the cage out of direct sunlight, your budgie may also appreciate a few toys such as a mirror in his cage.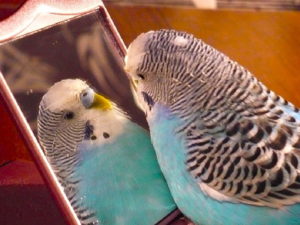 . If you allow your pet out of the cage to fly around make sure all doors and windows are firmly shut and closing curtains will prevent them from flying into glass and getting insured. Enjoy all your pets.
As always questions/comments are welcome
Karen
x