Education.com got in touch and asked if I would write about this worksheet, I agreed because this is just the sort of activity I used to do with my youngest son before he was old enough to start school. He was the youngest of 4 and liked to think that he was a 'big boy' like his brothers , so would jump at the chance of doing what he referred to as his homework.
The way that I would approach this particular worksheet, providing the child had some knowledge of letters and sounds, would be to point at the first letter of the first word ( which is an m) and ask which sound it makes then ask the child to look for a picture of something beginning with this sound although children may be confused by the word mug and refer to it as a cup ( not knowing what a mug is) when he has pointed to the corresponding image  I would encourage him to draw a line between the 2  as this helps with hand to eye co-ordination as well as spelling and reading.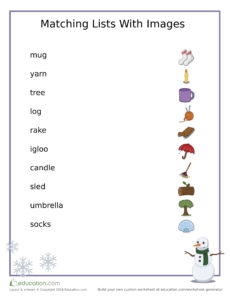 This has taken me back to when my son was learning his letter sounds he knew that mummy began with a m, we were visiting a wild life park  he spotted a sign for monkey and proudly announced to everyone in earshot that mummy was in this cage!
I think that children may also struggle to match the word yarn with the image on this worksheet as it is quite an old fashioned name, I know my children would have called it wool (saying that, however, I can't think of another word beginning with y that could be used to make it easier).
Children can warm up their spelling with this chilly snowman worksheet, want more? visit education.com for spelling, reading and math resources.
Disclosure: I have received no payment for this post and all opinions are my own.
My advice to anyone using this or similar activities would be to make it fun, give lots of praise to your children when they get it right but do not show disappointment if they make mistakes just give encouragement to try again later.
As always questions/comments are welcome.
Karen
x